On Sunday, November 19, 2017, I had the privilege of performing a recital with John King Carter at The Episcopal Church of the Holy Family in Jasper, Georgia.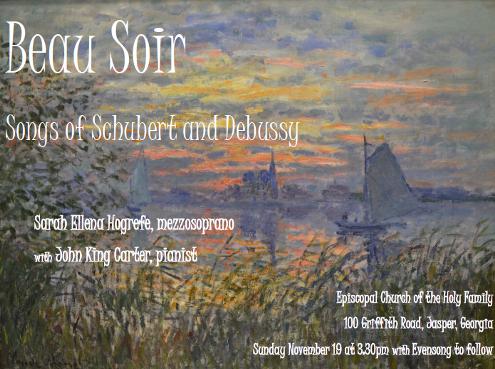 The program consisted of art songs by Franz Schubert and Claude Debussy. Following the concert, the choir presented a service of Evensong, and the church hosted a lovely reception following the musical events.
Many thanks to John for his beautiful piano playing and for inviting me to  be a part of this wonderful concert series!
Below are audio tracks from the live performance.
An die Musik by Schubert:
Auf dem Wasser zu singen by Schubert:
Erlkönig by Schubert:
Fantoches by Debussy:
Mandoline by Debussy:
Nacht und Träume by Schubert:
Ständchen by Schubert: