I'm singing Carmen excerpts from Bizet's fantastic opera on Saturday, March 11, 2017 with the Atlanta Philharmonic Orchestra at 7;30 p.m. at North Decatur Presbyterian Church, 611 Medlock Rd, Decatur, GA. Click on the link for tickets and more information.
Here are some photos and recording excerpts from our first rehearsal last night.
Here's a preview from the Seguidilla featuring tenor Tim Miller as Don José and yours truly as Carmen.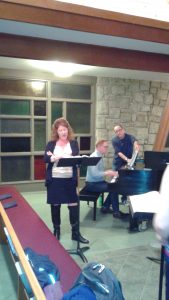 And then there is the Gypsy Song, which begins with the powerful instrumental introduction led by Cain-Osscar Bergeron on first flute; Sarah Ellena Hogrefe as Carmen,  and those gorgeous and fantastic soprano colleagues Jacqueline L. McCurdy and Wanda Yang Temko and (L to R on either side of me).