Recital and Evensong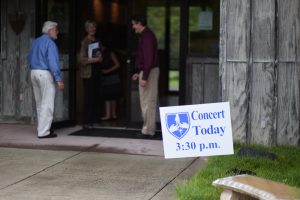 John King Carter and I performed an afternoon of music at the Episcopal Church of the Holy Family on September 18, 2016. What a warm and enthusiastic audience!
Here is a description of the concert in photographs and videos. All credits (and many thanks!) to Oana Hogrefe Photography.
Biblical Songs by Antonín Dvořák
First on the program were selections from Antonín Dvořák's Biblical Songs, which are settings of ten psalms from the Old Testament.
Here's a YouTube link to the Twenty-third Psalm (Psalm 23). If the embedded link skips or doesn't play, try my YouTube playlist.
Text: Psalm 23:1-4. O, my Shepherd is the Lord. I shall not want, shall want for nothing. In the soft pastures green, and beside waters clear, He leadeth me. He restoreth my soul; leadeth me in the paths, where I shall glorify His Name. Even though I must walk through the valley of death's dark shadow; I shall fear, shall fear no evil, for Thou art with me now. And Thy rod, and Thy staff, they shall comfort me.
John and I then performed Sir Edward Elgar's Sea Pictures, Opus 37.
Watch the video of the first song from this cycle, Sea Slumber-Song. If the YouTube link below skips or doesn't play, click here for Sea Slumber-Song.
Text: Hon. Roden Noel. Sea-birds are asleep/The world forgets to weep/Sea murmurs her soft slumber-song/On the shadowy sand/Of this elfin land./"I, the Mother mild/Hush thee, O my child/Forget the voices wild!/Isles in elfin light/Dream, the rocks and caves/Lulled by whispering waves/Veil their marbles  bright./Foam glimmers faintly white/Upon the shelly sand/Of this elfin land./Sea-sound, like violins/To slumber woos and wins/I murmur my soft slumber-song/Leave woes, and wails, and sins./Ocean's shadowy might/Breathes goodnight/Goodnight!"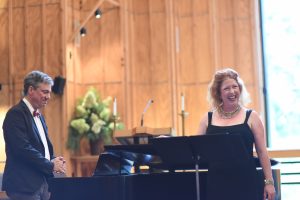 I thank John King Carter, Organist/Choirmaster, The Rev. George Yandell, members of the choir, and the congregation of The Episcopal Church of the Holy Family for inviting me to perform on September 18, 2016, as part of the 2016-2016 Concert & Evensong series.